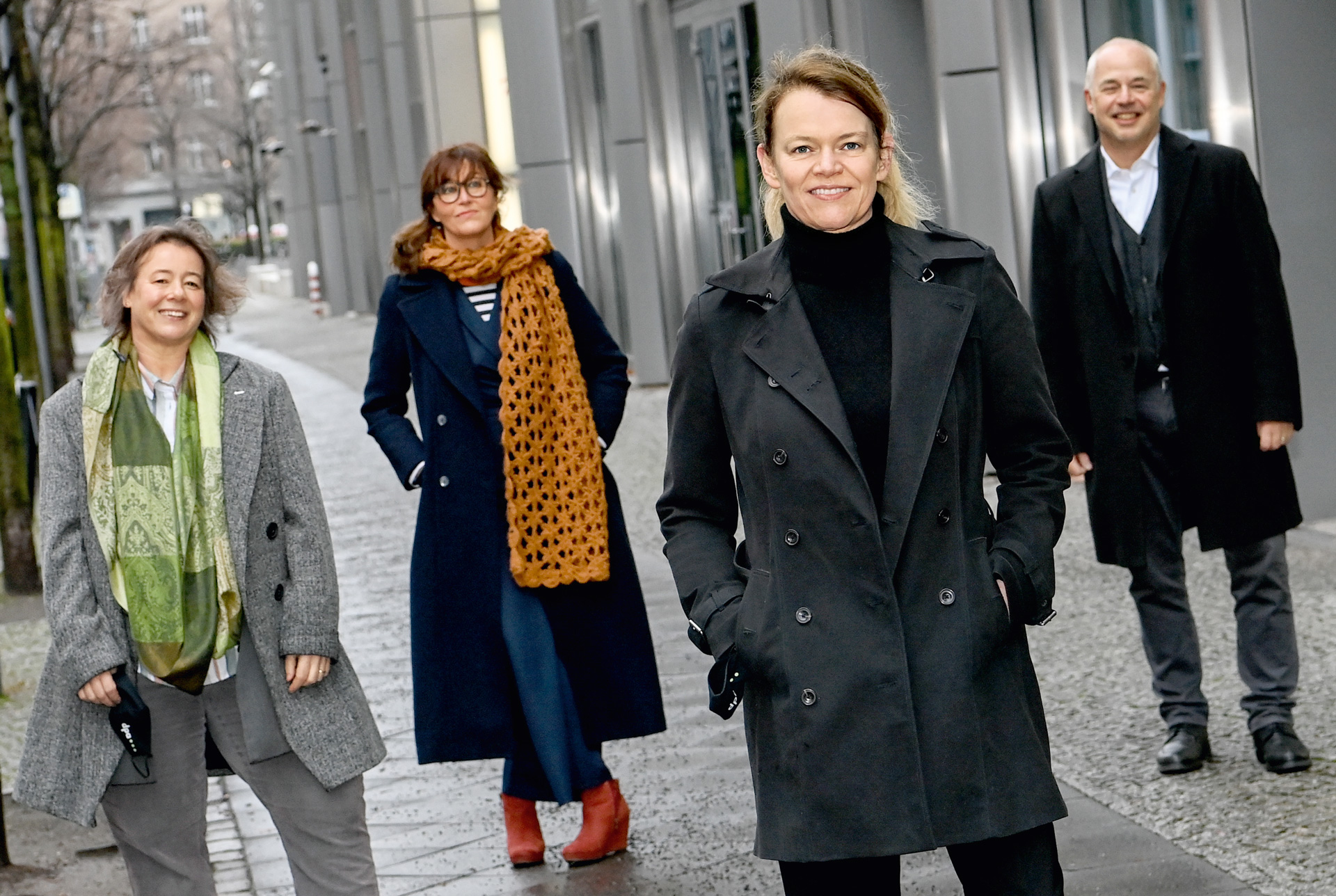 The dpa editorial team (from left): Jutta Steinhoff (Deputy Editor-in-Chief), Antje Homburger (Deputy Editor-in-Chief), Silke Brüggemeier (Deputy Editor-in-Chief), Sven Gösmann (Editor-in-Chief). The photo was taken on January 4 outside the dpa central editorial office in Berlin on Silke Brüggemeier's first day at work. Niddal Salah-Eldin (not in the picture) will move to Axel Springer SE after the end of her parental leave in September 2021.


It's not a regular summing-up so what is it? Let me put it like this:
Let us borrow from Marty McFly and Doc Brown the DeLorean with the flux capacitor (a word that has never found its way into the main German Service cast) and journey to the not too distant future, perhaps a year or two hence.
Corona is a bad memory and the handshake has suffered the same fate as the tie – both have disappeared from everyday life. Chancellor Laschet, Vice Chancellor Baerbock and Finance Minister Lindner are still grappling with the repercussions of the pandemic, as is the rest of the country. dpa has come through the crisis comparatively well, as have most of its customers. Journalism as a service which makes sense of the world is highly regarded and is still worth its money to many citizens.
Editors at dpa work as reliably as ever but the way they operate has changed completely when compared to before the crisis. Working from home is a fixed part of their everyday life. It doesn't matter where things are done. The main thing is that they get done. They just have to be multimedia by nature and be carried swiftly and efficiently.
Ambidexterity defines our editorial processes. In other words, orchestrating existing business and expanding business opportunities by entering new fields along with developing innovative products and services. The key elements are the profile processes, the introduction of the central Germany desk and the restructuring of the English and Spanish services, but also the fact-checking and data products segments, which have been growing since their introduction along with the new Audio Hub and podcast production.
The dpa clock has literally moved forward. Digital prime times have long been the pacemakers of editorial activity. Instead of coming from separate silos, the product now tells the "whole story", put together using the newly-introduced Rubix editorial software landscape. The name evokes a famous 3D combination puzzle because of its flexible and harmonious individual parts and a level of complexity which is invisible to the user. The front-end is lean and browser-based and can be used with all devices. Each editor only gets to see what he uses.
The pace of this new Rubix-dpa is determined by its products and how to deliver them to customers in the fastest and most accessible way and not by the internal perspective of the organisation.
A tool is only as good as the people who use the possibilities it offers. A lot has happened here, too. The conception and development of products is new. Digitally-focused monitoring flows into the feedback along with a precise analysis of the still thriving world of linear and digital TV and radio programmes. It also takes into account the still sizeable print circulation of dpa's shareholders.
The editorial processes are set up and internalised in such a way that we adapt ourselves seamlessly to the needs of our clients, choose content priorities and work more efficiently and quickly. We now offer our national and international customers fact-checking for text, images, voice and video. With the increasing significance of synthetic media, this business segment continues to grow. Working with data has become increasingly important for media and companies even after the end of the corona crisis. We support their data visualization with various dpa products.
We have picked up speed by centralising decisions. Reducing hierarchical levels and giving more responsibility to individuals trained in new personnel development programmes have helped enormously here. Everyone who takes on new responsibilities at dpa, or is already in charge, is given the required know-how at leadership workshops.
The newsroom itself is a moveable construction site full of ideas, flanked by shared desks, decision-making hubs and new studios for live TV and voice and podcast productions. Our products have certainly become much more visual and diverse. Planning is more comprehensive, discussions are more vigorous, decisions are made more quickly and editing is more consistent. Only in this new newsroom, less is written. Even the flood of emails has been stemmed. Office 365 and permanent video link-ups when major stories are developing make it increasingly unimportant where someone works, as long as they have a good internet connection.
The regular team gatherings in the newly designed meeting areas are all the more popular for it. "Conference room" as a term and idea has ended up in the wastepaper basket of organisational history.
This transformed German Press Agency is more aware of how it uses resources. Visiting customers in person is not a problem nor is giving teams a free hand to quickly reinforce staff in breaking news situations. Travelling for its own sake and out of tradition is however frowned upon. Within Germany trains are taken wherever possible and each flight has to be carefully considered beforehand. The electric power is green and there is more awareness of the need for social sensitivity without being at the mercy of the Zeitgeist.
Flexible employment models and the consciousness of working in the powerhouse of democracy, make a dpa editorial office attractive to young people from all sorts of backgrounds. Their concept of work is different to that of previous generations. They want to create lasting values without destroying other values at the same time. They have little time for hierarchies.
Well that is how things may turn out. I look forward to it. We won't disappoint you.

Sven Gösmann is editor-in-chief at dpa. After holding positions at the Rheinische Post and Bild, among others, he moved to the German Press Agency in 2014.