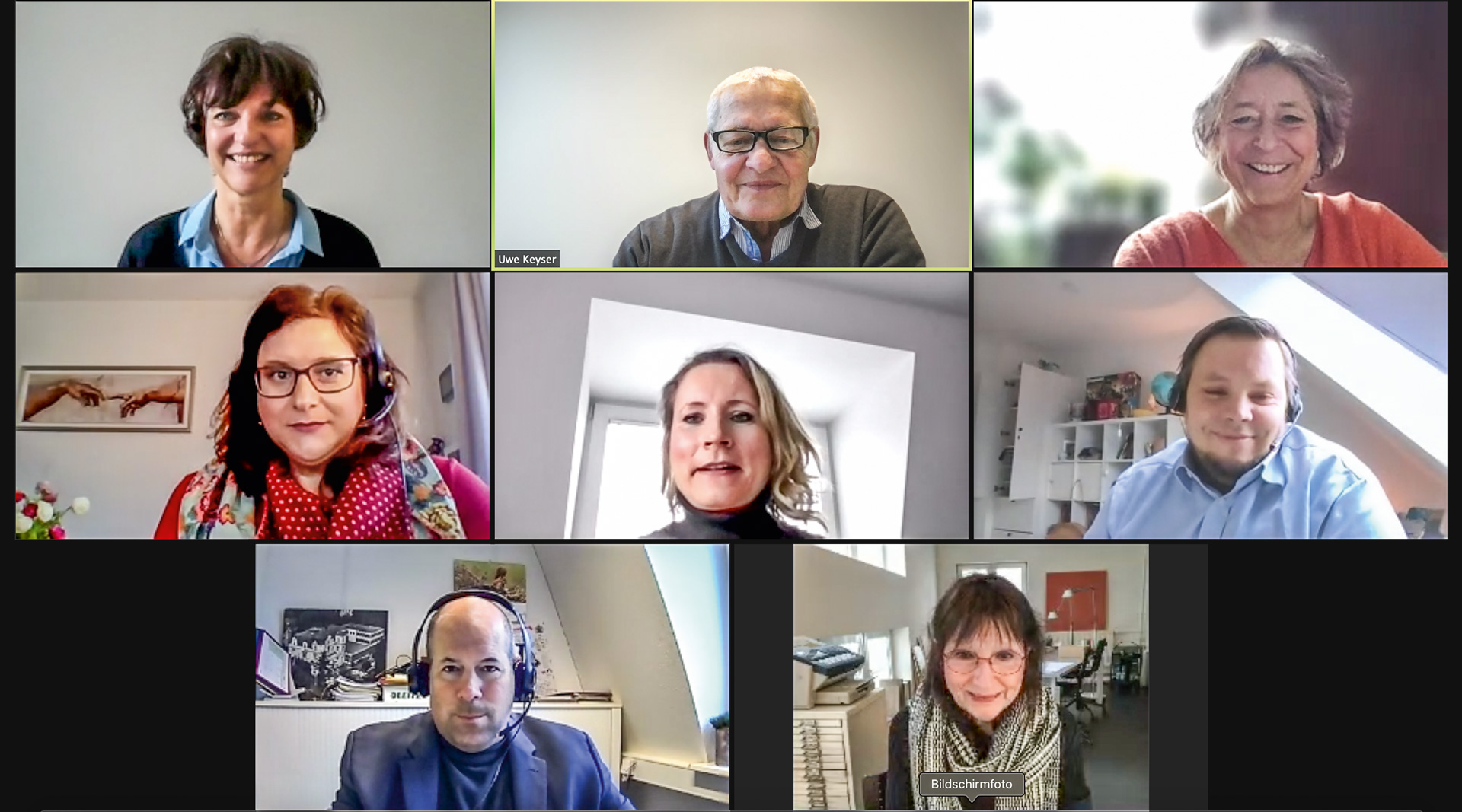 An inter-departmental dpa team, supported by external experts for work organisation and interior design, is developing New Worlds Of Work. Here is the team at one of its regular Zoom conferences.
By mid-2021 the building and its equipment along with work flows and the necessary agreements with employee representatives should reflect these new working arrangements. If we have done our job well, they will offer teams an environment for effective and flexible working which should also significantly improve their work-life-balance. Headquarters on Mittelweg will embark on the next phase of its already eventful life. Built as the Bavarian legation, it was transformed step by step into a news agency. As the campus of a dynamic news provider, it will be placed on a new footing to serve the future of the news agency.

Reshaping dpa's Product Palette
Four years ago we started implementing our plan to transform dpa from being a content delivery supplier to a marketplace for news. Alongside the platform approach, the Magic Marketplace strategy stresses the need for consistent product management as a decisive factor in maximising customer benefits. One task for the next few months is to establish a structure for product control throughout the dpa group based on jointly agreed principles. Product portfolios, training and communication are being networked. The driving force behind this will be dpa's own product management procedure, which is currently being reorganised and reports directly to the CEO.
The first task awaiting our newly-established product management team is to revamp the dpa-News platform. dpa-News is the group's most intensively-used news platform but it has become a little long in the tooth. It will be rebuilt from scratch and relaunched as dpa's news product "flagship store". It is scheduled to go on stream in the first half of 2022.
In mid-2021 the dpa-Audio Hub will enter the market as part of the agency's strategy for the growing Audio & Voice sector. The dpa-Audio Hub offers podcast producers a unique databank of sound clip files which can be used for podcasts. The dpa-Audio Hub will have the same visual identity as other dpa products such as dpa-Select or dpa-Agenda. It offers sophisticated data management which is nevertheless simple to use.
One construction site nearing completion is project Aurora, which started in 2018 with the aim of merging the group's various IT departments into one integrated dpa-IT. The company previously known as dpa mediatechnology was renamed to highlight its importance as a central enabler for all services within the dpa group. The consolidation of operations, consistent application of cloud strategies and streamlining of corporate structure are milestones along the road to the Aurora concept. At the same time, significant investments have been made to enhance dpa's response to potential security threats from cyberspace.

"We must structure dpa in such a way that we can actively shape the transformation. In doing so we can maximise the benefits to our customers, our shareholders and our own teams."

The developer campus at dpa-IT has proved its worth. The campus coordinates internal and external developers and serves as an umbrella for dpa's technical product development in close coordination with the respective product managers. The developer campus has spawned the dpa-ID, the dpa-Marketplace, new features for dpa-Select and dpa-Agenda and, of course, the new dpa-Audio Hub. The development campus is the thrust behind the future editorial management system Rubix, which is a key strategic IT project. Another construction site that was successfully handed over in 2020 is the new distribution portal of our major picture subsidiary picture alliance. Using artificial intelligence, more than 90 million images in the database are precisely searchable. Up-to-date image galleries and intuitive user guidance ensure an excellent user experience.
"Damned always to become and never to be," art critic Karl Scheffler once said of Berlin. This applies to dpa too – except that the omens are positive. Change will always be with us, our customers and society as a whole, but change is our friend. We must prepare for the adjustments that come and take pleasure in them too. We must structure dpa in such a way that we can actively shape the transformation. In doing so we can maximise the benefits to our customers, our shareholders and our own teams. A year without construction work is a lost year, as the Austrian saying goes. I am sure 2021 will not be a lost year for dpa.
Peter Kropsch has headed the executive board since 2017. Before that he was CEO of the Austria Presse Agentur APA in Vienna. Peter Kropsch is also chairman of the European Alliance of News Agencies (EANA).