Shortly afterwards we began work on this annual report. We wanted to inform shareholders about our plans. Naturally we wanted to pride ourselves on what had gone particularly well in 2019, the year which marked the 70th anniversary of the agency. We also wanted to set out where we could see further scope for improvement. We agreed with our corporate communication that the annual report would focus on sporting events due to take place in 2020. These included a European Football Championship with 24 teams competing in 12 countries, a unique journalistic and logistical challenge. Sports chief Christian Hollmann was due to explain in a major interview how his team was limbering up for the event. This was vitally important since the Olympic Games in Tokyo were scheduled to begin only a few weeks later. The event was to boast more sporting disciplines than ever before and take place in various time zones – this called for maximum effort.
Front page sport. Amid freezing January weather photographer Michael Kappeler lined up a polo-shirted Hollmann at a playing field in Berlin. By then we were poring over a strategic initiative drawn up with management and editorial colleagues. It was one of the topics at a retreat session next to the wintry Wannsee lake. We agonized over what to call this concept until we finally agreed on the term "Magic Marketplace". The idea was to use the dpa ID to further develop all our new and existing platforms and products.

While working on company strategy and the annual report, we found our attention being increasingly drawn to our news stories on the wire. Andreas Landwehr and his colleagues in China kept on reporting and before long there were comprehensive daily updates from Wuhan on the mysterious virus. The stories soon hit the front pages of newspapers and topped the "most read" lists of internet news websites. They also featured prominently in radio and television bulletins. The new threat had a name too. It was called Covid-19 or Sars-CoV-2.
These terms sounded technical and the illness quickly became known internationally as the coronavirus. The timelines of our social media feeds on Twitter, Facebook and Instagram were soon flooded with jokes and humorous memes. That tasty summer Corona beer from Mexico also became the butt of many light-hearted remarks.
For us this was anything but a laughing matter. Operating a worldwide network of around 150 news offices, we are no strangers to local crises, pandemics and natural catastrophes.
Ebola had only just vanished from the news radar before we were confronted with the question of "Shall we send someone to northern Iraq?" This is all part of a day's work for us but what happened next was something completely different.
By February, when pictures of deserted streets in Wuhan started dominating the news and our colleagues had been forced into quarantine, we were well aware of the dangers involved. But we did not realise the full implications.
From the end of February and the beginning of March the virus spread to Europe, and particularly to Italy. Our office in Rome had to be shut down. In the central Berlin newsroom we began to revise and expand the existing emergency contingency plans. The possible scenarios were influenced by some of the dramatic events of recent years, the blockade of our Cairo office by the Muslim Brotherhood in 2012, the terrorist attack on the satirical magazine "Charlie Hebdo" in Paris in 2015 or the 2016 Turkish coup attempt.
Of course we were prepared for power cuts, water damage or fires and we had long-identified possible alternative sites. The plan for the central newsroom in Berlin was to move into a nearby hotel and many of the department functions would have been transferred to other locations in Germany. At that point, the words "lockdown" and "shutdown" were only familiar from the reports of our Washington colleagues covering the past failure of US Republican and Democrat politicians to agree on a national budget and the need to close down parts of the administration owing to a lack of funds.
News chiefs and department heads lost no time in working out the alarm plans. There were many questions to be answered such as the allocation of laptops and reliable interfaces that would allow audio and video staff to use private wireless local area networks (WLAN). Would our messenger service Slack cope with the explosion in data traffic? Who would we have to send home and how could we coordinate all this and the necessary communication? We soon came up with a new concept. We kept working, both on our products and on our strategy. We continued to visit customers and began reducing the number of editorial team members needed in the office. Around half of them would be able to work from home. That was our plan.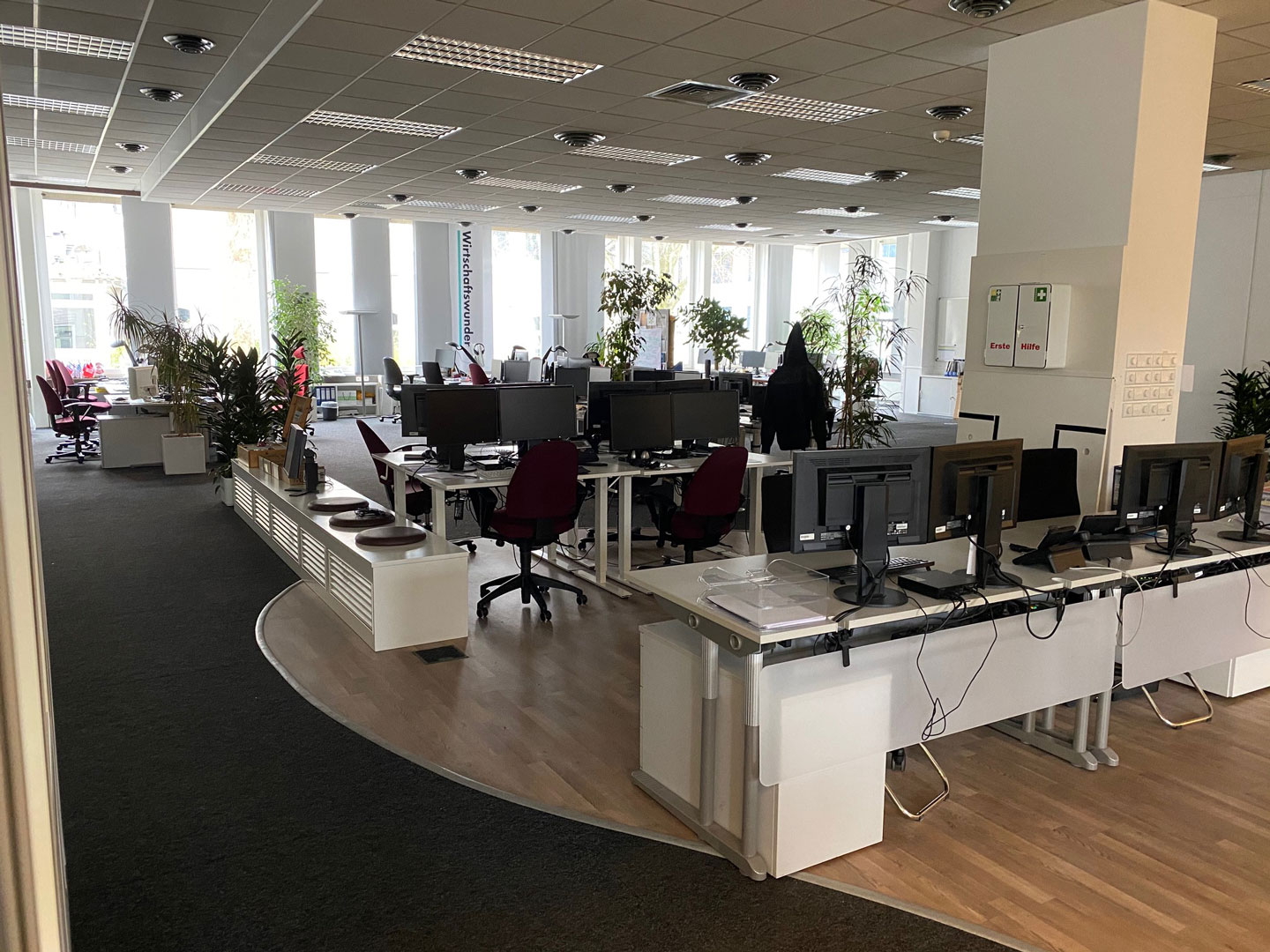 The coronavirus crisis has left a void where normally hundreds of people work. From their home offices, employees across the group ensure that dpa and its subsidiaries keep operating.

It turned out differently. The words exit restrictions, contact ban, lockdown, shutdown, video conference and "essential operation" soon passed our lips regularly during video link-ups. We got glimpses of the living rooms of colleagues, saw the odd cat leap across the screen or a family member waving shyly into the camera.
The out of the ordinary suddenly became the ordinary. We got used to it. The flow of news did not subside and our focus soon changed. We asked ourselves: How will our business carry on? What kind of products do customers need right now? How are our own people coping with things and do we need to take a closer look at some of them? What kind of extra technology do we need? A key reaction was to build our own wikis. We were found ourselves learning from the crisis and our remarkably agile reaction to the way it unfolded. Every day poses dozens of new questions directed to the management and all our employees.
What continues to impress us is that many of us found the right answers and everyone pulled together. We looked after each other even if we couldn't sit in close proximity every day. For the duration of "corontane" we set up a Slack channel called "living room". A compilation show went out twice a week with videos from home offices and it became our virtual camp fire. We want to hold onto this spirit.
As we write this piece, editor-in-chief (Sven Gösmann) is present in the newsroom as one of two colleagues there on emergency duty and his co-author (Peter Kropsch) is manning his office on a deserted Mittelweg in Hamburg. As these lines go to print, we still do not know how the situation is going to pan out.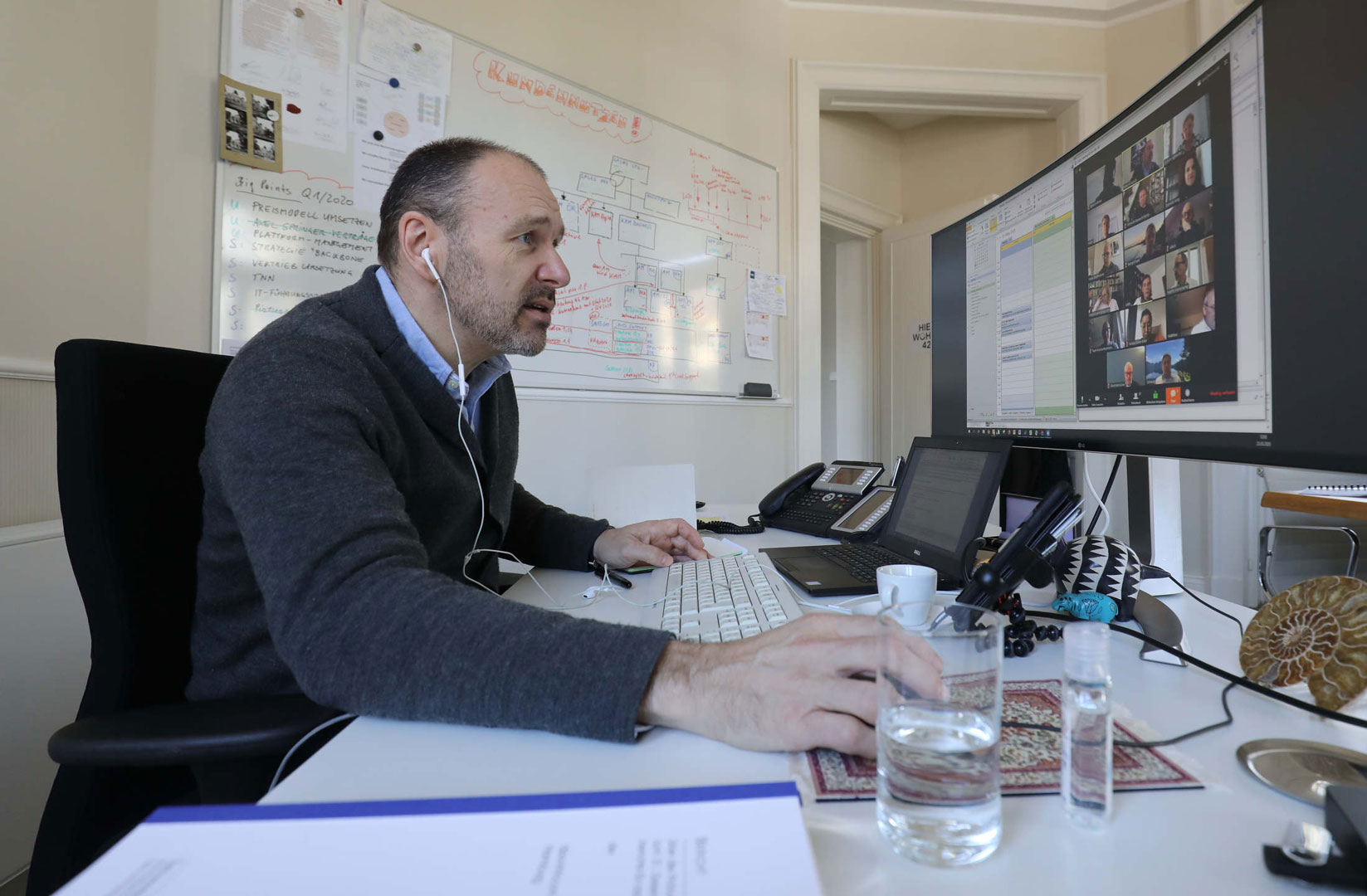 Tackling the crisis together: dpa CEO Peter Kropsch and management hold the fort during the shutdown at the Hamburg site, steering the agency through tough times…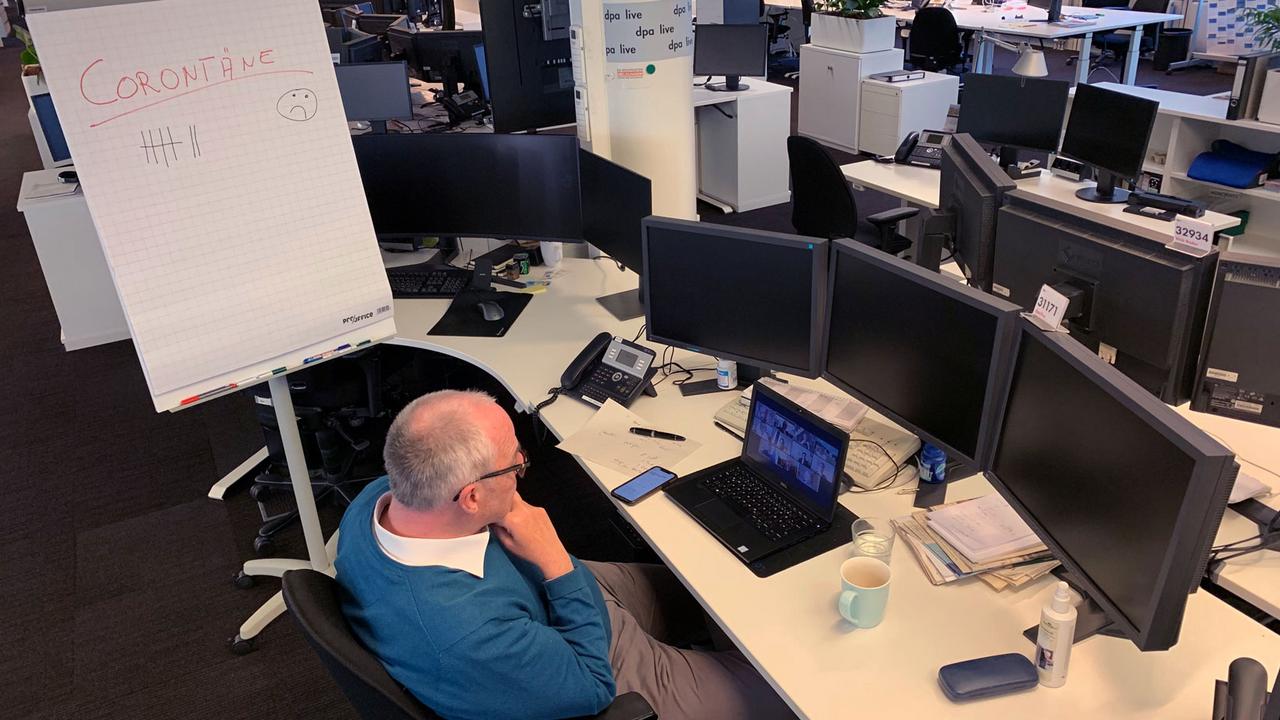 …while chief editor Sven Gösmann and a small team of specialists in the Berlin newsroom supervise news coverage from Germany and the world.


We do know three things better than we did before the Corona crisis. Our company dpa is a fantastic and efficient enterprise with a highly-motivated body of staff. Thanks to intensive consultations with customers, we have been able to adapt our products quickly and to offer valuable assistance when needed. This interplay is the lifeblood of the agency. We have devised a plan for what happens afterwards and it goes by the name of "Magic Marketplace". Read on to find what it involves.