dpa in the Corona crisis:
"Every day poses dozens of new questions"

By Sven Gösmann and Peter Kropsch

New Year's Eve 2019 falls on a Tuesday. The weather in Berlin and Hamburg is mainly grey and the temperature stands at around 7.5 degrees Celsius. Germany has its usual worries – when is it going to snow again and what will conditions be like at winter holiday destinations in Austria, Italy and Switzerland? Will they overdo the firecrackers again this year? Can "AKK" (Annegret Kramp-Karrenbauer) manage to stay at the top of the CDU?
The two of us, editor-in-chief and CEO, exchange WhatsApp messages with sincere greetings for the New Year. We are convinced that the coming 12 months are going to be good ones for dpa. And why shouldn't they be? We have lots of promising plans in the pipeline, many operations have been optimized and the mood among employees is upbeat.
At 10.31 am on December 31 science editor Valentin Frimmer puts out a news story on the wire from the central editorial newsroom in Berlin. It is one of the last reports of the year from our China correspondent Andreas Landwehr. The story contains 267 words and he transmits it with a priority of 4 which indicates something interesting but not sensational. For story number 430 in the day's news cast Landwehr chooses the headline "Mysterious lung disease breaks out in central China". He dutifully fills out the notepad of key information for clients. Among other things it names the sources for the story: The Wuhan Health Commission, the "People's Daily" and the World Health Organisation (WHO). There are around 300 digital hits for the news item which gets a lot of play at the end of the year when there is usually not much news around. Several media follow it up and on January 4 the Beijing correspondent of the "Süddeutsche Zeitung" newspaper reports briefly on events in Wuhan.
That's how it started for us.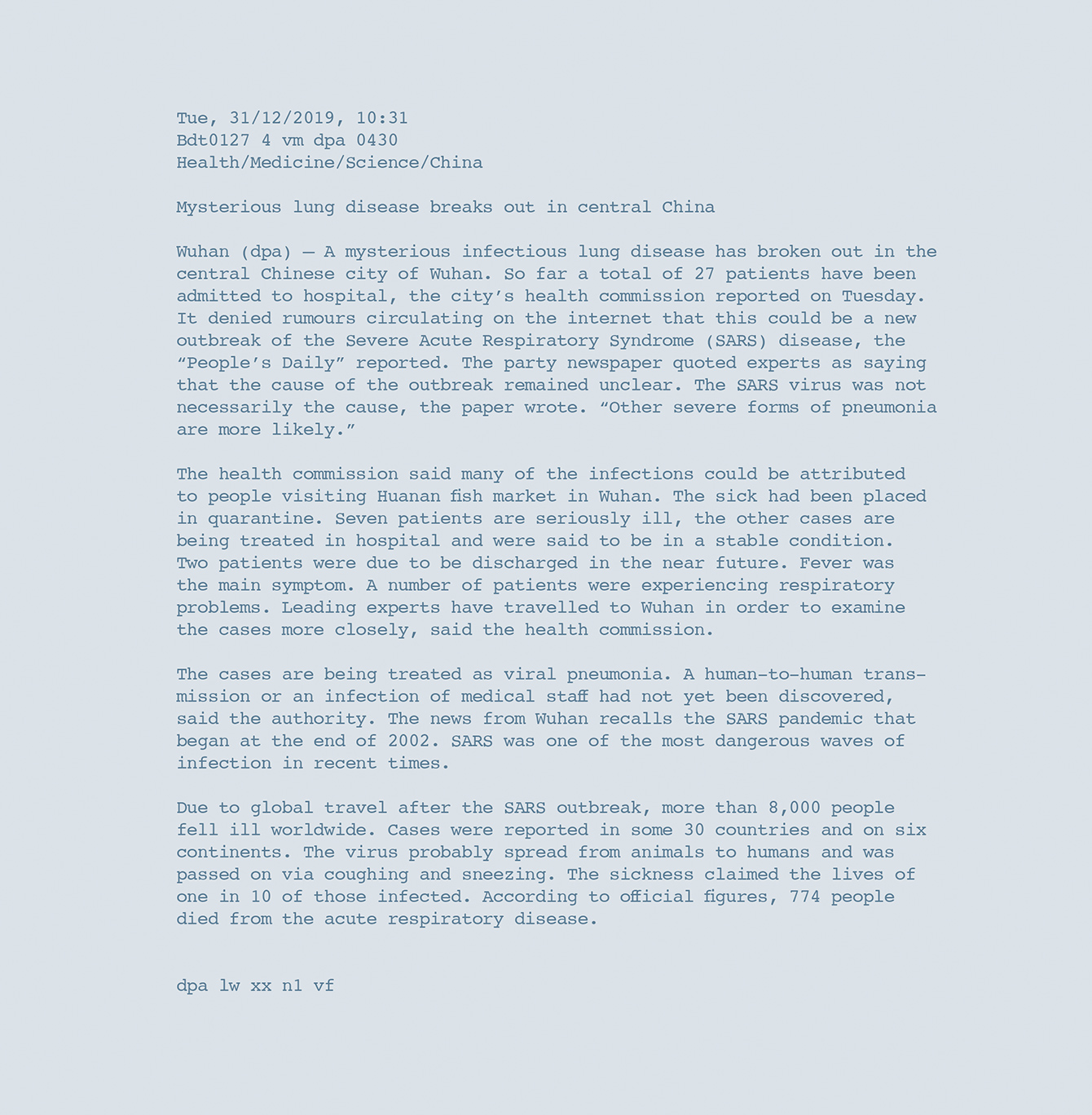 That's how it all started: On the morning of 31/12/2019 the first dpa news item on the coronavirus went out on the wire.